| | | |
| --- | --- | --- |
| | | |
| | | |
Painting and Collecting other Impressionists ... years

ahead

of their time
Like this page on FB.com / Facebook:
Anna Boch was a Belgian painter,
born in Saint-Vaast, Hainaut,
in the 5th generation of the Boch family
who made Ceramics since 1748

Her father Victor Boch operated the company
Boch Freres
and her uncle Eugen von Boch
the company Villeroy & Boch.


Anna Boch participated in the
Neo-Impressionist and Impressionnist movement.
Her early works used a Pointillist technique, but she is best known for her Impressionist style.

As a pupil of Isidore Verheyden,
she was influenced by Théo van Rysselberghe.
She was the only woman to be part of the Art Moovement Les XX.
Anna Boch´s own paintings


Anna Boch painted 913 paintings
(as far as we know today)



paintings for sale as posters


Portraits
of Anna Boch
by other artists



Flowers




Stillife Paintings






Farm Houses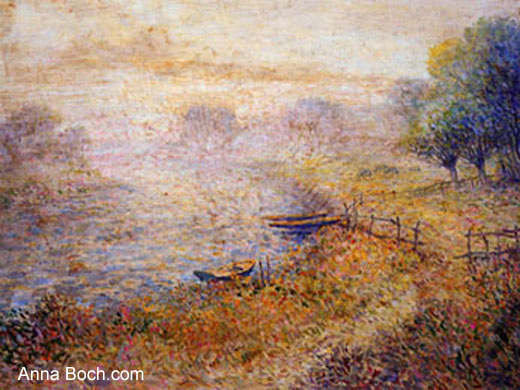 South of France




more coming soon ...
added in 2016 Anna et Vincent
a film by Francoise Levie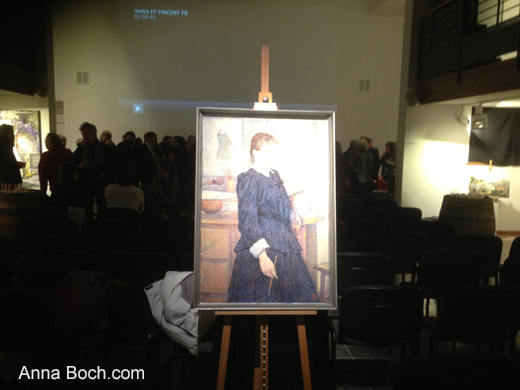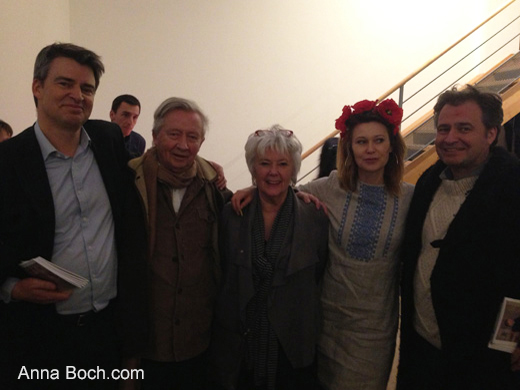 Francois Levie has made the fascinating documentary on Anna Boch.
The film is shown at the Wellington Museum in Waterloo, south of Brussels
The opening night was january 19 2016.

In the above picture the filmmaker Françoise Levie with her beautiful daughter,
and Anna Boch's family,
the sculptor Alfred Blondel, his son Thomas Blondel
and the editor of this website.

Talking to Alfred Blondel and Françoise Levie
was a fascinating
a few minutes
really worth all the drive to Belgium ...

more about the Film Anna & Vincent


Besides her own paintings,
Anna and Eugene Boch owned
one of the most important collections of impressionist paintings of its time.

Thanks to her father´s ceramics business
and her moderate down to earth lifestyle she was financially well off, all her life.
This gave her the possibility to promote young artists,
including unknown Vincent van Gogh, who had no success
and whom she admired for his talent. She knew about him through her younger brother Eugene.





Vincent van Gogh was a friend of her brother Eugene Boch.
The portrait "The Poet" (Le peintre aux Etoiles) was done in September 1888 in the Yellow House in Arles.


Van Gogh paintings bought by Anna Boch

"Le Vigne Rouge"
(The Red Vineyard)
was painted Nov 5 1888.
Anna Boch purchased it
in 1890,
during the Brussels
Art Expo at les 20.

It is believed to be the only painting
Van Gogh sold during his lifetime.


The painting made Anna Boch
enter the history books.
She was the very first one,
years ahead of her time,
to buy a Van Gogh painting.
She payed only 400 Francs
(1600 $ in today´s value)
for one of the World´s
most prestigeous and valuable Paintings
probably worth over
a 100 million $
today.

The Painting is at the
Pushkin Museum

in Moscow.

years

ahead

of her time
Anna Boch
understood
Van Gogh paintings
more about the painting ...
The Red Vineyard.com
Anna Boch and Georges Seurat ... coming soon


La Seine à la Grand Jatte by Georges Seurat was one of several hundred
high profile paintings in Anna Boch´s collection.
Today the painting is in the Musee Royal de Beaux Arts in Brussels.
painting for sale as poster





Anna Boch travelling and painting around the coasts of France



Anna Boch´s Cultural Heritage


Anna and her brother Eugen Boch in 1930.
Most of the Anna Boch collection was sold after her death in 1936.
In her will, she donated the money to pay for the retirement of poor artist friends.
Some paintings were also donated to the Musees Royaux des Beaux Arts in Brussels.







140 paintings were left to Anna´s godchild, Ida van Haelewijn,
daughter of the gardener Antoine van Haelewijn.
In 1968 Anna´s great nephiew,
Luitwin von Boch,
a successful & visionary entrepreneur
aquired the entire collection for a future Anna Boch Museum
... years

ahead

of his time.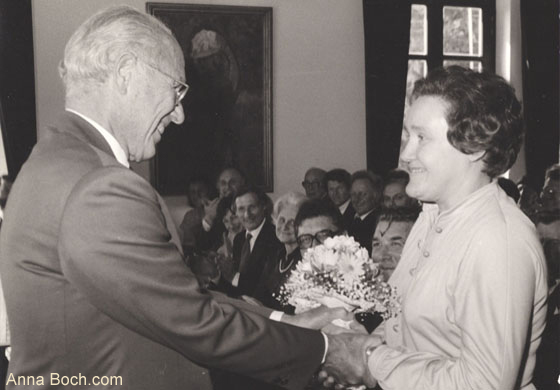 In 1979 Luitwin von Boch opened the Museum of Ceramics
where a very limited number of Anna Boch paintings could be seen
next to ceramic treasures produced by the family for over 200 years.








The paintings remained in Ida van Haelewijn´s house
until the end of her life in 1992.
A permanent Anna Boch Exposition
has open in april 2011 the above building in Mettlach / Germany .






opening night of the Anna Boch Exposition





While updating this website
the editor had a coffee with a friend from New York

"Why are none of the worldfamous masterpeices of your great aunt's
and your great uncle's collection
are at the Museum of Ceramics in Mettlach ?".

When he was still a child and guide of the museum
someone else had asked him the same question ...


Neither Anna Boch
nor Eugene Boch
have left a single painting
to the Museum of Ceramics in Mettlach.

It is located at the Old Abbey
where they stayed as children.

Everything what is there today
has been bought at a later time.

The masterpiece paintings
from there
own collections
are in
Paris - Musee d'Orsay

Moscow
- Pushkin Museum
London - Courtault Institute
New Yor
k
- Guggenheim Museum
Brussels - Musée Royal des Beaux Arts

there must be a reason ....


People known in common
Anna Boch died in 1936,
Eugene Boch in 1941
Their cousin Octave Maus in 1919 already.

While Anna Boch had kept a diary, Octave Maus many letters
uncle Eugene kept little notes.
How did the editor of this website,
born decades after them get his information ?

Maria von Boch Brügmann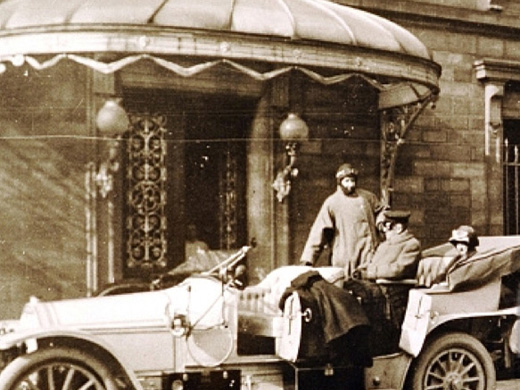 There was also the loved
aunt Maria von Boch Brügmann (1899-1980)
wife of uncle Dodo.

Maria and Dodo had lived at the Villa Ziegelberg.
The picture of young uncle Dodo
standing behind the car was taken around 1910.

His father Edmond von Boch (1845-1931)
was Eugene and Anna's
direct cousin.
His grandfather was Eugene von Boch
the brother of Anna's father Victor Boch.
Edmond build the villaZiegelberg in 1878.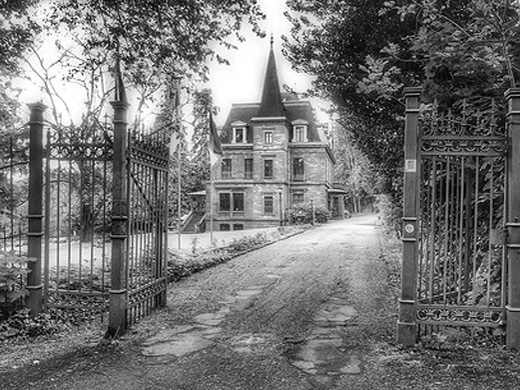 Considered as a bit scandalous
Dodo and Maria had left their villa around 1930
and moved to the south of Germany.


Maria knew everybody
the editor of this article (as a child and teenager)
his mother
his grandfather (a nephew of Maria's husband)
his great grandfather (a direct cousin of her husband)
and
Anna Boch & Eugène Boch (when they were old
- they were direct cousins of her father in law) .

Maria was very stylish
glamorous and generous,
she always had lots of time for children.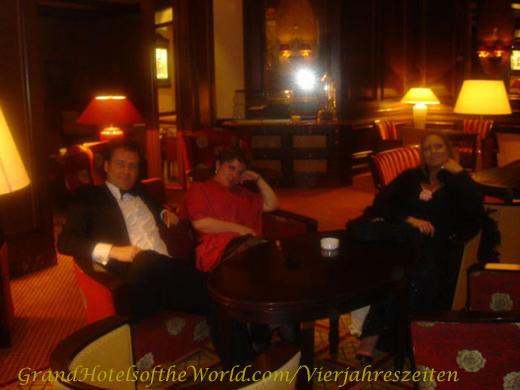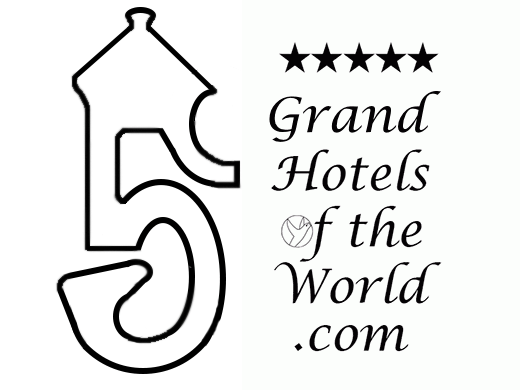 Aunt Maria had extraordinary presents
nobody else was giving
but the best was when she invited the children
to a Very Beautiful Grand Hotel,
like the Hotel Vierjahreszeiten in Munich.
And there ... in the Hotel Lobby
she had all the time in the world
to tell them fairy tales ...

"You know uncle Dodo and You once had
an aunt and an uncle that lived in Belgium and France ...
We knew them very well.
They had been friends with all the famous
impressionist painters,
Vincent van Gogh, Claude Monet, Paul Czesanne,
Paul Signac, Georges Seurat,
Henri Toulouse Lautrec, Paul Gauguin, Dodge Mac Knight ..".


And sometimes Maria was talking
about another Fairytale Lady
she had met many times
sitting in the same Vierjahreszeiten
Hotel Lobby.

All the children that had the chance
to know Maria
will remember her all live.


People transmitting information
Anna Boch died in 1936,
Eugene Boch in 1941
Their cousin Octave Maus in 1919 already.

While Anna Boch had kept a diary, Octave Maus many letters
no notes from uncle Eugene are left.
How did the editor of this website,
born decades after them, get his information ?

Helen von Boch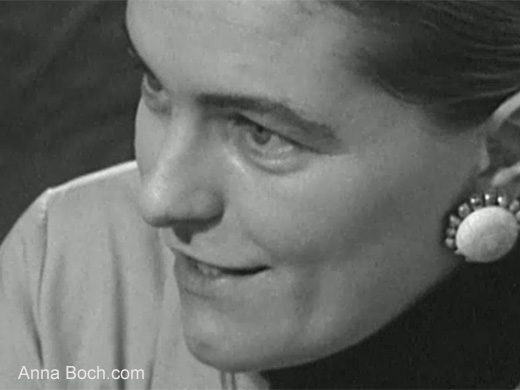 Helen von Boch (1938-2007) was a designer for Ceramics
She more or less grew up at the Faiencerie.

Villeroy & Boch ad brochures prays that some people
in the Boch family have a creative talent,
a talent that can be found from one generation to another.
It might be true for some, less true for others.
Helen, born 3 generations later
was definately the most artistic one of her time ...

But there was a major difference between
the possibilities the family was giving.
in the 19th century and today.
Victor Boch and his brother Eugen von Boch
had treated all children more or less equally
Later the spirit became very different
making a major difference between boys and girls.

Eugene Boch and his three sisters, Anna, Jeanne and Elisha
had all inherited a lot of shares.
Helen and her sisters howether were given a very limited amount
in total contradiction to extend of their fathers fortune ...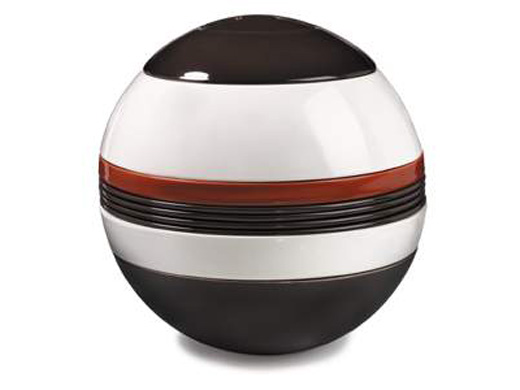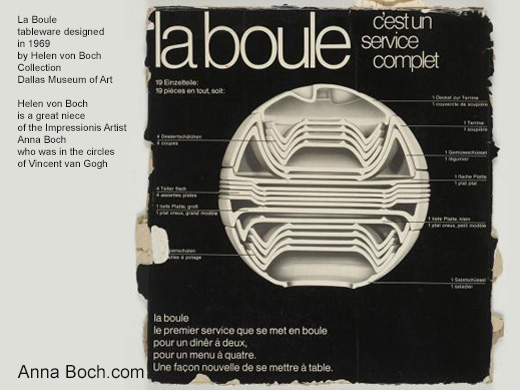 La Bomba desigend in 1970

When he was a child the editor of this websites remembers
Helen driving a tiny car that was almost falling apart
while her younger brother and her younger cousin Alexander
were compeating who had the fanciest Porsche 911.
And this though Helene's designs
were the companies best money makers.

Her boheme and non-conformist lifestyle irritated
There was a story that had amused him as a child
While Helen was taking driving lessons
sometimes there was nobody to drive her to the driving classes
in the nearby town of Merzig.
Instead of missing them
she decided to jumped into one her father's automobiles
and arrived at the astonished driving school
all by herself ...

When the editor was 15
his mother had asked her cousine Helen
to "babysit" her children
for the last 2 weeks of the summer vacation.

Every evening Helen was telling him crazy stories
They had heavy arguments because
what Helen said was in total contradiction
with what his grandfather had told him.
Conversations lasted to the middle of the night.
Uncle Eugene was also one of the topics
and his relation with Vincent van Gogh
you would not tell to "well educated children".


And then the stories about her design job
at the Ceramics company.
As a "woman" she had never been paid a big salary.
Her designs made millions and millions of Deutsche Marks ...
but the day she asked to get some royalties
it was impossible to find any money for it.

An American firm would have given her
bonus after bonus and stock options
as a little "thank you" and an "encouragement",
her own family acted very differently.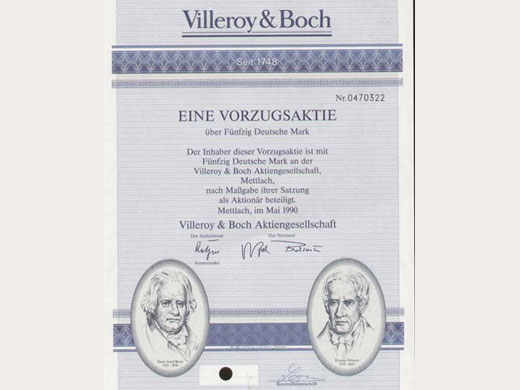 When getting into financial difficulties
her younger cousin Alexander von Boch
managed to buy the few anteile (family shares)
she had inherited
for an "special" price.
This also meant no more dividends
when she was getting old.


At the end of her life Helen
was as poor as Vincent van Gogh ...
No royalties and no dividends.
Her cut phone line was entertaining
the "cocktail conversation".

If Anna Boch would still be alive
this kind of mentality would not have been possible.
Anna would been horrified.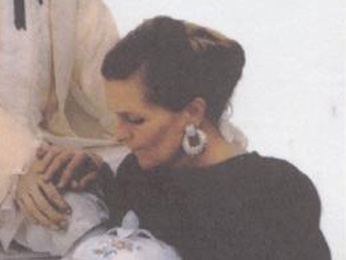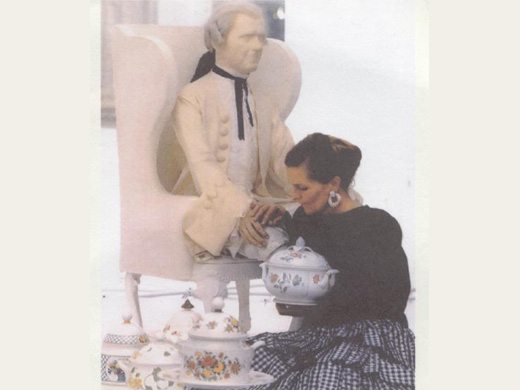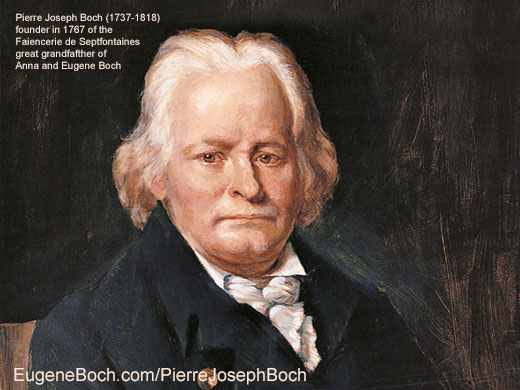 2007 The picture was taken some time before her death.
She wanted to have it on her funeral card.
Helen is sitting next to a statue of the company founder Jean Francois Boch.

As she has been treated so badly
she developped an unusually strong relation
with those of her family
that had lived before her times.
And thus she knew things nobody else knew.
It was fascinating to listen to her ...

When Helen died many "secrets" went ...

Dr Therèse Thomas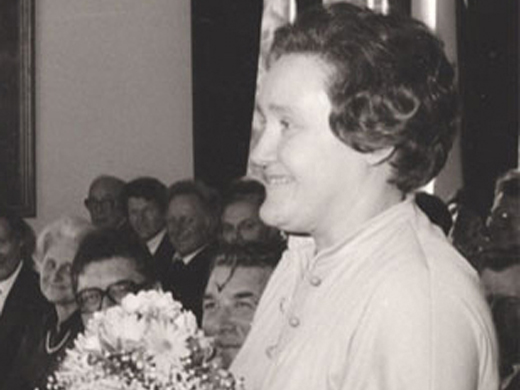 Dr Therese Thomas was a the curator of the
Museum of Ceramics.




Dr Thérèse Thomas, once hired by Luitwin von Boch
to run the Museum of Ceramics in Mettlach,
has a passion for Anna Boch.
She collected uncountable information on her.

Never discouraging Dr Thomas kept searching and followed up on any source
to recuparate valuable and lost Information
of the times of the Impressionists.



Catalogue Raisonne by Dr Thérèse Thomas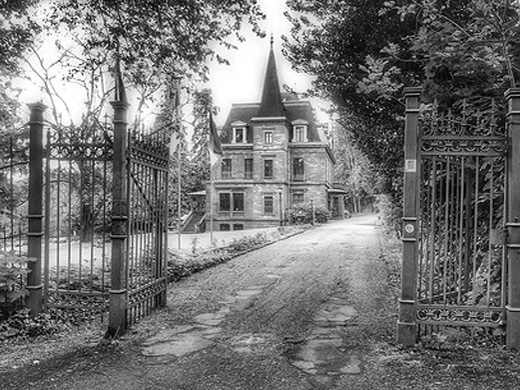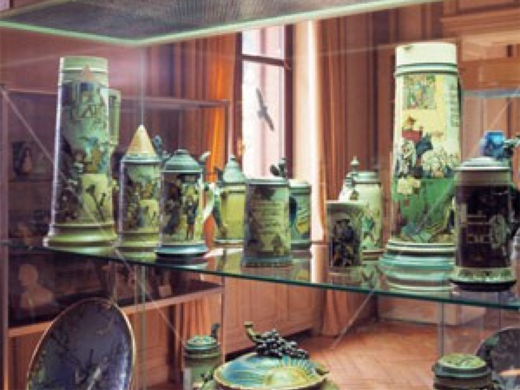 1979 Ziegelberg was converted into a place
to host the reopened Museum of Ceramics.
As a child the editor of this article had learned to tourguide
the museum
and his teachers were his grandfather
and a charming Lady
Dr Therese Thomas
with a bit of a French accent.

And recently in a phone conversation Dr Thomas told him
"You never stoped asking questions"

more coming soon ...



Museums which show Anna Boch Paintings
or Paintings from the Anna Boch Collection
Sitemap
Webhosting by Don Lockaby from
ESH Services